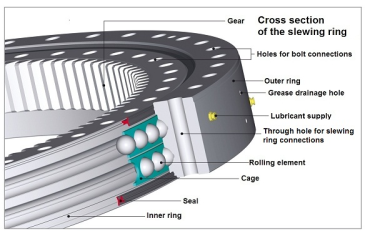 A manufacturer of large slewing rings says two of its eight lines of slewing rings have applications on wind turbines. For one, the Rotek Series 3000 double row ball units are an evolution of the classic four-point contact, slewing ring design. These feature induction-hardened raceways, the highest degree of raceway wrap, and durable ball separators. Within the limits of their capacities, they offer an optimum combination of economy, reliability, and durability.
Rotek Series 10000 slewing rings are built with three independent rows of rollers. Since all loads are transmitted directly to raceway surfaces, which are perpendicular to the load direction, the capacity of each rolling element and each raceway surface is utilized in the most efficient manner.
The three-row roller slewing ring offers more capacity per unit size than any other Rotek slewing ring design and is inherently the stiffest style of construction. Frictional torque is lower than other styles under most load conditions. Both series can be internally or externally geared, or gearless.
Rotek Inc.
rotek-inc.com
---
Filed Under: Bearings
---